Welcome to Troy's website.
Troy's passion for promoting and sharing a lifestyle through health, fitness and dance is - for him - the art of living.

Born and raised in San Francisco, Troy's diverse and extensive performance experience and training has given him the credentials and awards as a highly decorated fitness professional and performance artist.

Whether in the forefront of a performance or behind the scenes of a production his unique style endless energy, spirit and cause drive him to follow his passion for production in the entertainment industry.

In any arena TROYPRODUCTIONS is acclaimed for its outrageous entertainment.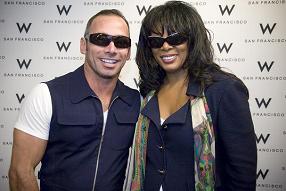 Troy with Donna Summer at her 2008 Come-back Tour
Troy performing with Jennifer Holiday at the 2007 Equality Awards San Francisco, Saturday February 10th, 2007. (Photo By Lydia Daniller)
Showing off their muscle and gay pride, men from a Gold's Gym contingent march in San Franciscos annual Gay Pride Parade, Sunday, June 25, 2006. (AP Photo/Noah Berger)